Smart grids
Smart grids are revolutionising our society. Around the world, major investments are currently underway to renew and digitalise the electricity networks. The new type of electricity networks, the so-called smart grids, will change the way we distribute, consume, and even think about electricity in the future.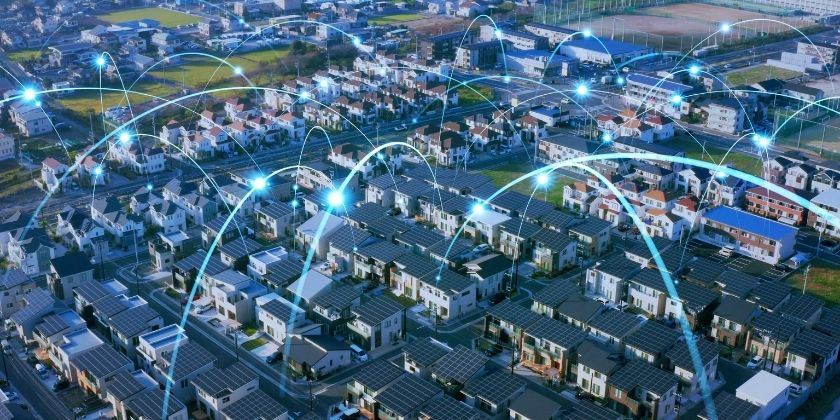 What are smart grids?
The smart grid ensures that customers always have electricity in a cost-effective and environmentally sustainable way. It integrates information from everyone connected to it – electricity generators, electricity consumers and those who are both, analyze the information and act on it. This allows us to always balance supply and demand for electricity even as large parts of electricity production will vary with weather and wind and there are capacity constraints in the networks.
A smart grid should be able to manage:
• Wind and solar power that is weather dependent
• Electricity consumers who want renewable and affordable electricity
• Energy storage that can store electricity when supply is high and demand low
• High power peaks from e.g. charging infrastructure for electric cars, buses, trucks, ferries and more
• The expectation is also that the smart grid will create a platform for new energy-related services to emerge.
Why smart grids?
The big challenge is to address the climate problems and at the same time meet an increased demand for energy. In order to reduce the use of fossil fuels, we need to increase the availability of renewable and weather-dependent electricity. At the same time we see a growing number of prosumers, ie consumers who are also producers, a growing need for charging infrastructure for different types of electric vehicles, and the electrification of the industry. These together place new demands on the electricity networks – the electricity networks need to become "smarter" to manage demand and supply in an efficient and reliable way.
Challenges for a smart grid:
• Capacity – to meet the increasing demand for electricity in our growth regions
• Reliability - supply electricity whenever needed
• Flexibility - efficient use of renewable energy sources
• Efficient - as few losses as possible in the distribution and use of electricity
Smart grid projects
Here is a selection of our smart grid projects and investments:
Sthlmflex
Svenska kraftnät, Ellevio and Vattenfall Eldistribution have joined forces in a research project that is testing a flexibility market in Greater Stockholm.
Integrid
Through the InteGrid project, in which Ellevio participates, actors around Europe are learning from each other in order to create smarter electricity networks in the future. An important aspect is to ensure that several actors who fulfil different functions cooperate in the most efficient way possible.
Second generation smart meters
In 2020, Ellevio began the installation of the second-generation smart electricity meters to all its customers. The meters will make it easier for customers to control electricity use and enable us to switch on new modern energy services as the electricity networks become smarter.
Text updated: 8 December 2021
Was this information helpful?